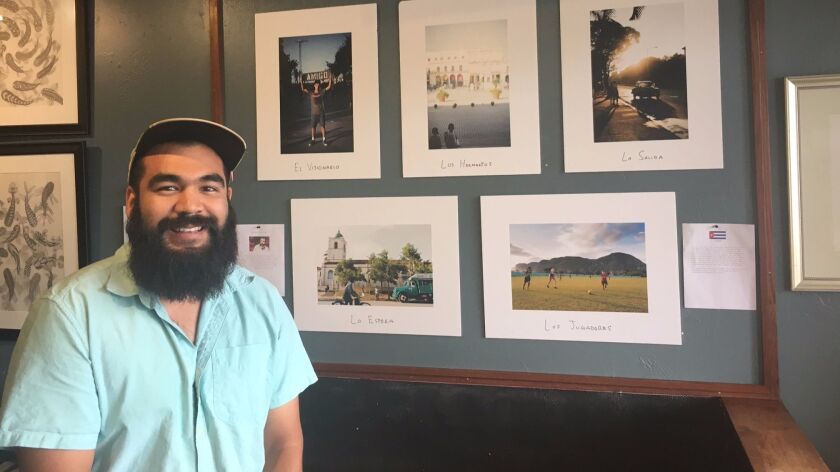 Meet Me in Iceland
Why has Iceland been nominated as the "Most Peaceful Country in the World?" Find out at the La Jolla Photo Travelers Club meeting, 7:30 p.m. Wednesday, June 21 at Wesley Palms, 2404 Loring St., Pacific Beach. Christa McReynolds shares photos from a hike through Iceland. Free. christam10@icloud.com
Read All About It!
The Summer Reading Program at La Jolla Library runs June 15 to Aug. 15, for ages toddler to 18. For the first time, there will also be an adult summer reading program. Sign up at sandiegolibrary.org or at the library. Throughout the summer, read 10 books (or 10 hours for teens) and come in the library to claim your backpack full of prizes, including museum passes, science-to-go packs, restaurant coupons and more. Adult readers can claim Chipotle coupons. For every 10 books or hours read, participants can pick a book to keep and be entered into a raffle for a chance to win an iPad. 7555 Draper Ave. (858) 552-1657. lajollalibrary.org/events
Pass the Popcorn
A screening of "Miss Peregrine's Home for Peculiar Children," will take place 6 p.m. Wednesday, June 21 at La Jolla Riford Library, 7555 Draper Ave. Directed by Tim Burton, the 2016 film is based on the dark fantasy novel of the same name. Free with complimentary pizza, candy and soda. (858) 552-1657. lajollalibrary.org/events
There's Music in the Air!
A Father's Day concert titled, "From Vienna to Moscow to Prague" will be performed by violinists Ray Mak and Andy Helgerson; Lee Wolfe on viola; Cliff Thrasher, violoncello and Erica Poole and Glenn Vanstrum, pianoforte, 2 p.m. Sunday, June 18 at La Jolla Library, 7555 Draper St. The program will include Johannes Brahms' "Variations on a Theme by Schumann," Op. 23 Piano Four Hands; Anton Arensky's " Piano Trio in D minor," Op. 32 and Antonín Dvořák's "Piano Quintet in A Major," Op. 81. Free. (858) 552-1657. lajollalibrary.org
Indie rock band Cracker will perform 6 p.m. Wednesday, June 21 at the Green Flash Concert Series at Birch Aquarium, 2300 Expedition Way. The show will feature fan favorites from Cracker's 25-year recording history, including material from "Berkeley To Bakersfield." Tickets: $30.95-$35.95. (858) 534 3474. aquarium.ucsd.edu
The Farrell Family Jazz summer concert series continues with the Ambrose Akinmusire Quintet, 7:30 p.m. Wednesday, June 21 at Athenaeum Music & Arts Library, 1008 Wall St. Tickets: $21-$26. (858) 454-5872. ljathenaeum.org
Card Party
To celebrate the social nature of the game of Bridge, La Jolla Recreation Center will host monthly Bridge and Dinner events, 4:30 p.m. third Mondays (the next one is June 19). For intermediate players, "Chicago" scoring will be used. Participants must sign up with a partner. $15. RSVP: (858) 552-1658. bit.ly/ljreccenter
Strike a Yoga Pose
The free community Festival of Yoga runs 8 a.m. to 3 p.m. Saturday, June 17 on the lawn in Balboa Park at Park Blvd. and Presidents Way, San Diego. Join 500 yogis for a morning of yoga, music and meditation in celebration of the United Nations International Day of Yoga. Register: (619) 727-4930. festivalofyogasandiego.org
Something to See
The work of jazz photographer Grace Bell, who has been photographing jazz musicians and performances for some 35 years, is on exhibit June 17-July 29, at Athenaeum Music & Arts Library, 1008 Wall St. Free. (858) 454-5872. ljathenaeum.org
Glass art by Dick Ditore and photography by Lisa Ross comprise the works in the "Africa North/South" exhibition, on view June 20-July 2 at La Jolla Art Association, 8100 Paseo Del Ocaso. A free, opening reception is set for 5:30 p.m. Saturday, June 24. (858) 459-1196. lajollaartassociation.org
Watercolor works by Dora Chen and paintings in oil and acrylic Marjo Reser make up "Visual Treats Through Paintings," on display June 16-30 at Gallery 23, 1770 Village Place in Balboa Park's Spanish Village, San Diego. Gallery hours 10 a.m. to 5 p.m. (619) 323-3522. spanishvillageart.com
Poets on Parade
The 2017 San Diego Poetry Annual begins at 7 p.m. Friday, June 23, in the San Diego Art Institute, 1439 El Prado in Balboa Park, San Diego. Editors and authors published in the anthology will read poems from this year's edition. Guest appearances by Anthony Blacksher, Judy Reeves, Adam Greenfield and Jimmy Jazz. Franco Z will perform "A Brief History of Jazz." People's Choice Poem Performance Awards follow. Beverages, snacks and time to mingle. Tickets: Members free, non-members $5. Bring a snack/beverage to share and get in free. Writers/artists who would like to participate in the People's Choice Poem Performance Awards can get their names in the hat ahead of time at mkklam@gmail.com or text (619) 957-3264. poetryandartsd.com or sandiego-art.org
---