Natural La Jolla: The grunion run — an amazing natural spectacle
By Kelly Stewart
California grunion — Leuresthes tenuis — are small (approximately 5"-6") fish in the Silversides family that have a remarkable reproductive strategy — they spawn on the beach and lay their eggs in the sand. For four consecutive nights during new moon and full moon just after high tide is the time to see the run.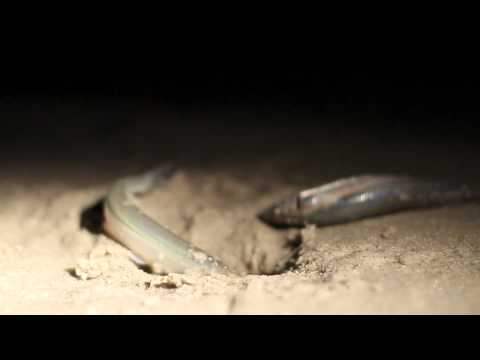 Males are the first to arrive in a big wave, followed shortly by females. The females wriggle their bodies down into the wet soupy sand with their heads up and their bodies vertical. They must deposit their eggs and then wiggle free before the sand hardens and they are trapped. Up to eight males swim up next to a female and curl around her, releasing sperm and fertilizing the eggs. The eggs develop in the sand for about 10 days until a higher than usual tide washes far up on the beach, releasing the tiny fish from the eggs. Grunion live in our coastal waters year round and spawn only from March through the summer.
This year I was determined to observe the spectacle of a grunion run firsthand. On night one I headed out to the beach in anticipation, but only found a few bored-looking gulls sitting on the beach in a pool of light from a nearby motel. Night two — too tired to venture out.
The next morning I noticed a curious bumpy pattern on the sand from the high-tide mark down to about 20 feet below high tide. Convinced that this was evidence that the grunion had been there the night before I went that night to WindanSea Beach. From the sidewalk, I shone my flashlight onto the beach. Flashing silver — everywhere. It was happening! I turned off my light and hurried down.
What a curious sight! Thousands of fish crowded onto the beach, leaping and wriggling. Watching the females come up out of the sand, pause while they laid eggs, and then wiggle back and forth until they flipped free of the sand was a thoroughly entertaining and funny experience. The next opportunity to see a grunion run is tonight — and over this full moon weekend.
For more information on the timing of the runs, see the California Department of Fish and Game website at www.dfg.ca.gov/marine/grunion.asp or the Birch Aquarium for guided outings at www.aquarium.ucsd.edu/.
Kelly Stewart, Ph.D. is a postdoc with NOAA's Southwest Fisheries Science Center. Contact her at NaturalLaJolla@gmail.com.
Related posts:
Short URL: http://www.lajollalight.com/?p=43747
Posted by
Staff
on Jun 14, 2011. Filed under
Columns
,
Natural La Jolla
,
News
. You can follow any responses to this entry through the
RSS 2.0
. You can leave a response or trackback to this entry