Plenty of hoo-doo and hilarity make 'A Dram of Drummhicit' a hit at the La Jolla Playhouse
By Diana Saenger
LET'S REVIEW!
Barely four lines of dialogue are spoken by performers in Arthur Kopit and Anton Dudley's world premiere of "A Dram of Drummhicit" at the La Jolla Playhouse when the audience erupts in laughter. But then why wouldn't they laugh? You will too when you hear the story of people in a small Scottish town who believe in fairies (even though no one has ever seen one) and who deal with bog bodies, some well preserved after 2000 years, that continue to pop up out of the ground.
Charles Pearse (Lucas Hall) has never heard of such things until he arrives on the island. Charles is a "fixer," hired by conglomerate owner Robert Bruce (Murphy Guyer) to clear any obstacles that would keep him from his plans to build a world-class golf course on the island.
At first, Charles is welcomed with open arms, as the townsfolk have already been blessed with some seed money from Bruce to put them in a receptive mood. Reverend Hagglehorne (Larry Paulsen) is excited to see Charles and friend (Joseph Culliton), so he can show them the bodies in his church basement that have "popped up on the bog like a pimple," and that they, too, will have to deal with.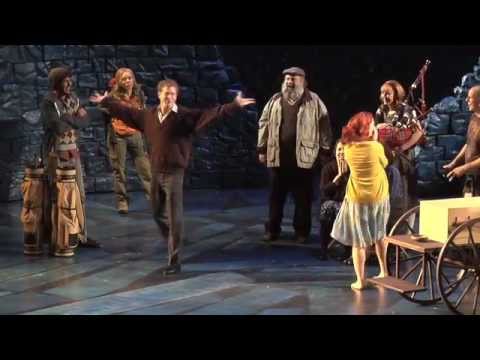 Paulsen sets the tone for this comedy as he fidgets over trying to stop his aide Nick (Daniel Rubiano) from using profanity in front of his guests. At one point, Paulsen is so animated, he fires off his lines so fast he gives Bruno Tonioli (judge on "Dancing With the Stars") a run for the best laughs.
After a trip to the pub, Charles tries to recover from a shot of the island's disgusting trademark ale, Drummhicit. There, he's forced into Island Jeopardy as bartender Mackenzie (Kelly AuCoin) pointedly questions him about the golf course project. Slowly Charles begins to realize not all is as it appears in this whacky place.
British museum worker Felicity (Kathryn Meisle), who hopes to add the bog bodies to the museum's collection, goes into detail to Charles about the lore of the land — the floating bodies, fairies on the island, and the mysterious washerwoman. It seems when she appears someone will die.
This is a short play, so between blinks, Charles and barmaid Fiona (Polly Lee) are soon nestled under the covers together. What's really funny about this scene, more than the fact her dad (John Ahlin) sits in a chair at the end of the bed watching them, is Fiona's explanation about how she knew Charles was a fairy like her.
Just when things start to make sense, in marches a funeral procession for the town fool, William Ross (Alan Mandell). Because Charles saw the washerwoman with a shirt like William's, he believes he's the next to die. William sits propped up on pillows in a wooden casket waiting for that moment.
What happens next, is best left to the fairies. Suffice to say, the cast of "A Dram of Drummhicit," under the direction of Christopher Ashley, does a great job of keeping the audience in stitches.
If you go
What: "A Dram of Drummhicit"
When: 7:30 p.m. Tuesdays, Wednesdays; 8 p.m. Thursdays, Fridays; 2 and 8 p.m. Saturdays; 2 and 7 p.m. Sundays, May 17–June 12
Where: La Jolla Playhouse's Mandell Weiss Theatre, UCSD campus
Tickets: $35-75
Related posts:
Short URL: http://www.lajollalight.com/?p=42032